Your film is inspected, cleaned, conditioned, repaired, and spliced. It is not uncommon for these old films to need some repair and splicing.
Your film is captured using our Frame-by-Frame method. Our method presents many advantages over doing it yourself. Flicker free, crystal clear videos are the result.

Movie is assembled in the order you specify. You should number your reels so your movie will flow in a sensible order. We will put your movie in the order you tell us to.

Enjoy your DVD! Your DVD can be played on any DVD player or home computer. Copies can be easily made and shared with family and friends. You can order additional copies of your DVD for just $10 each. Each copy you order from Pictures to Digital comes exactly the same as the your first one: Same video, same menus, on an M-DISC, and the same personalization printed on the case and the DVD. Copies of your DVD will be available at this price for 6 months after your order has been completed.

Captured film is processed to correct fading & discoloration. Most 8mm and Super8 film will need the lighting fixed and the colors corrected. We'll make sure your video look the best it can.

Music is added to your movie. Virtually all 8mm and Super8 film are silent movies. We will add pleasant background music to enhance your viewing experience.
Your movie is prepared for DVD. We add a main menu and chapter points. Chapter points will make finding different scenes in the movie easier to find.
Your movie is burned onto a DVD. We use only M-DISC, the 1000 year DVD. Your DVD can last a lifetime with the M-DISC. (Up to 1000 years)
We print your title on your DVD and the DVD case. Thumbnail images from your movie are also printed on the DVD case.
Our Millennium Film Transfer puts your film onto a Millenniata M-DISC DVD. The M-DISC is a revolutionary DVD that can last 1000 years. It is constructed of an inorganic material similar to obsidian. The M-DISC has been laboratory tested and the tests show that the M-DISC's interior layer can last as long as 10,000 years, while the plastic outside layer would last around 1,000 years. The M-DISC was tested by the US Dept. Of Defense against other "archive" grade DVD's and was the only DVD that passed their tests.
Your video is permanently etched into the DVD and cannot be deleted and will not fade.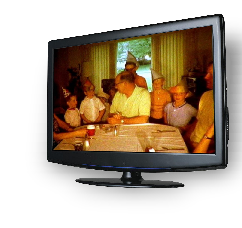 A film transfer to DVD will unlock your memories from the past!
Pictures to Digital's film transfer is a high quality frame-by-frame capture of each exposure on the film. The result of which is a DVD with crystal clear video. We apply enhancements to your old film to account for fading and discoloration that may have occurred over time. And, our process allows us to regulate the speed of the film properly, so the movement looks normal (not too fast or too slow.)

We transfer Super8 and 8mm silent film to DVD or video files.


8mm and Super8 film transfer is billed at 16¢ per foot. Use the approximate prices, above, only as a tool to estimate a price for your order. Also, if you have more than 1600 feet of film, a quantity discount of 10% applies.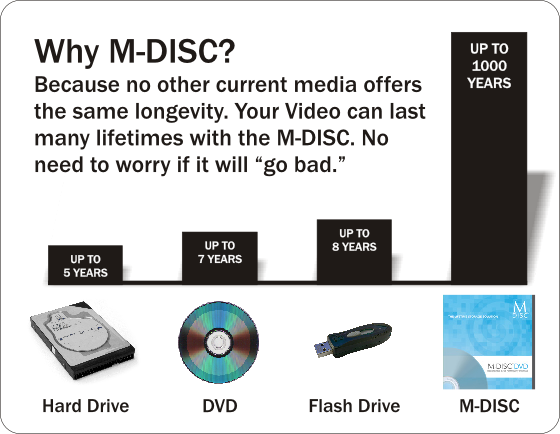 The M-DISC is made by Millenniata Inc. in Utah. M-DISC, the M-DISC logo and all other branding and technology associated with the M-DISC brand are trademarks and/or property of Millenniata, Inc. There is no association between Millenniata and Pictures to Digital and none is implied. The use of Millenniata M-DISC by Pictures to Digital also does not imply any endorsement of Pictures to Digital by Milleniata, Inc. We choose to use the M-DISC because we believe it to be a superior product to other archival and non-archival DVD discs currently available. More information about the M-DISC is available on the internet, including at Milleniata's website at www.mdisc.com


Your film is history.
Part of your family history is tucked away, recorded on 8mm or Super 8 film. And, there is a good possibility that you no longer have a working projector to watch those memories. That's not to mention that those old films are also becoming too old to project through a regular home projector without risking destroying them. Luckily, Pictures to Digital is here to convert your movie film to DVD or video files.
Time is of the essence.
8mm and Super 8 film are reaching an impasse. The film and dyes that make up your film are disintegrating. Depending on their age, condition, and how they were stored they are in some stage of disrepair. As these films age they become brittle, fade, the color changes, and they may even become host to mold colonies.
The beauty of transferring your film to DVD or video files is that you essentially stop the forces of time from acting on your home movies. Digital movies on DVD or video files, are basically immune to any further degradation. Even copies made of digital movies will be exact duplicates with no decrease in quality or content!
How we convert your film.
We use a method called Frame-by-Frame. Each frame of the film is captured one-by-one. Then, using a computer, each individual frame is reassembled into a digital movie. Our method offer you several advantages:
Movement in the movie looks normal. No one appears to be in slow motion or moving too fast. Different movie cameras recorded film at different and varying speeds. Because we reassemble the film frames one-by-one, we can compensate for the variation and the result is motion that looks normal.
Flicker-free videos. While it is possible to project your home movies onto a screen and record them with a camcorder, avoiding annoying flickering is almost impossible using that sort of set up. And, that's not to mention a number of problems that come with recording a projected film with a camcorder.
Our process also has an enlarged gate which means we capture the full frame of the movie. In other words, the edges of your movie are not cropped off as the original projector would have done, and as some other services may do.
Also available: Reels converted to MPEG or AVI video files. MPEG video files, 16¢ per foot. Your video files will be transferred to a portable hard drive, which you must supply or may purchase through Pictures to Digital.